Intuition is naturally strong for everyone, including you. Learn how you can release what is blocking it, increase intuitive accuracy, and access it on demand for guidance and direction in your life.
Since 2005, people all over the world have honed their intuition from the offerings of The SAGE Method. We hope you can join us and thrive on your spiritual path as well!
SAGE Method Enrollment is Opening Soon
Join One of Our Online Intuition Communities and Be a Part of Something Amazing
When you raise your vibration on a regular basis, something magical happens. Your spiritual path lines up in front of you, your intuition becomes very strong, and life starts to fall into place for your highest good. The SAGE Circle was built to help you do just that!
You are moments away from the training, connection, and support you need. Starting with the very popular spiritual tool GCP (Ground, Clear, Protect), the Circle is filled with easy and powerful tools to help you live the life you have always wanted.
The Crossing Over Community unlike anything we've seen before. It is a safe place for all to discuss and explore spiritual clearings, connecting with our loved ones on the otherside, hauntings, and crossing over work. In this incredible community you will find unconditional love and support. In addition, you will find discounted pricing on courses focused on Crossing Over work and Intuitive Development.
Hone Your Intuition ~ Sign Up For One of Our Most Popular Online Courses
Join us in The SAGE Method, the 7-week online program proven to cultivate strong psychic awareness and accurate intuition. Covering both psychic development training and mediumship development classes, this program combines science and spirituality, pragmatic and esoteric knowledge providing you the most comprehensive intuitive education available anywhere. Throughout the seven weeks, you'll undergo a journey of emotional, mental, and spiritual transformation—a journey that will change your life.
If you are wondering if you would be a good card reader or if you've been reading cards for a while now but wish you could get more information, this course is a perfect fit for you! Sometimes it's the small tips that improve our reading techniques. Likewise, taking a moment to look at your intuitive process through a new viewpoint opens up the floodgates of messages. When we add tools, shift focus and challenge our card reading skills we deepen the process into something truly reliable. This is what you will experience as a result of taking this fun course.
The Crossing Over Course provides a framework around what happens energetically when someone passes away, leaves their body, and goes through the transition of crossing over to the otherside. Death is a natural transition that is beautiful yet can be emotionally painful as well. With the teachings found in this course, you will have tools to compassionately assist your loved ones, and others, in their death transition process.
Manifesting money can be difficult when it comes to creating abundance. This is because there are multiple layers at play, some of which are hidden. When you dissect and understand these layers, then align them for yourself, you then crack the money code and bring financial abundance into your life. Learn step-by-step how to identify, align and balance these layers to increase your wealth energetically.
Empaths come into the world with heightened senses. As a result, an empath will unwittingly take on the underlying emotions of other people around them. This process can be draining and may cause struggles in life. But underneath these struggles lies one of the most powerful and beautiful abilities, empathic intuition. Join Beau as she provides the formula and tools to fine tune your empathic energy. Above all, stop the burden of collecting emotions, and begin to use your empathic intuitive abilities to expand your own path and the spiritual path of others.
You are always manifesting. It is a natural part of our human experience. So become an active participant in the process and watch abundance flow your way. Your life patterns, thoughts and intentions guide manifestation daily. When attention is placed on purposeful manifestation, you empower yourself and become a creator of your path.
Imagine having forward momentum in your life, an automatic desire to do your spiritual practices, a calmer state of mind, an increase in ambition, joy and balance, and a direct connection to your source. As a result, at a higher vibrational state you are connected to source—your higher self and your guides. Your intuition is strong. Follow the 21 Day Spiritual Cleanse to reset and recharge your spiritual path.
Current Intuition Special ~ Sign up for the SAGE Circle and get a free bonus course of your choice!
"I have been a SAGE Circle member since May 20, 2020. It has been one of the best decisions I have ever made. For anyone out there wondering if this is for you, I say try it for a month and I promise 99% of you will fall in love with all that SAGE Circle has to offer and just the overall vibe of it. You truly are a part of a big spiritual family when you're a part of a group like SAGE Circle!" ~ Sarah Matyas
Did You Know SAGE Circle Members Get Access to Exclusive Live Courses?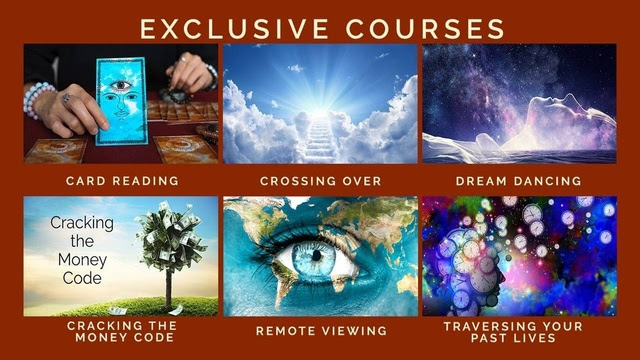 Get Your Hands on the Book People are Calling an Instant Classic!
From the author…
The twisted roller coaster ride called "opening up psychically" started for me the day my Grandmother died. That one pivotal moment changed me from a materialistic, business-driven agnostic to someone who doubted reality itself. After that, I began to wonder if the brain I had relied on for so many years had finally set itself out to pasture.
This book is about what happens when one stumbles onto the spiritual path. I present this book to you, raw, uncensored, and in detail – all the ups and downs of what it is really like to spend your days among the dead. Most importantly, you will find the hours of frustration and the moments of debilitating fear are also met with times of pure bliss when life unfolds to demonstrate the beauty of human potential.
This book is not some fictional tale "based on a true story." This is my life, and I share it with you.