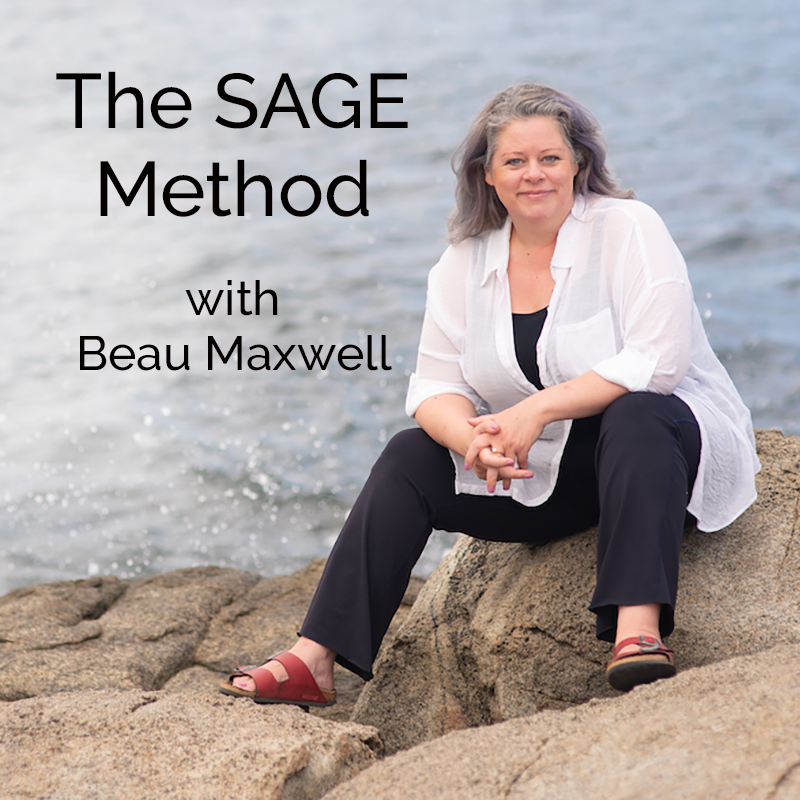 The most comprehensive, down-to-earth, intuitive development course available. Harness your intuition and finally live your bliss!
SAGE stands for Spirituality, Alignment, Growth and Empowerment
The SAGE Method is a global phenomenon that has been teaching people how to access their own, unique and strong intuition since 2008. It is a COVR Visionary Awards Gold Winner and a go-to resource for thousands on their spiritual path.
If you are looking for an intuitive development course that works, you have landed in the right spot. The SAGE Method contains the exact tools you need, laid out in a clear and easy to follow path, to finally unblock and open your intuition.
This course will take you from experiencing random signs to seeing and hearing intuitive messages on demand. Plus, you will gain access to more spiritual guide communication and interaction.
Down-to-earth and comprehensive, you won't find woo woo here, just tools that work.
Intuition is naturally strong for everyone, including you! Join Beau Maxwell, an internationally known psychic medium and beloved spiritual teacher, as she walks you through the steps to finally unblock your intuition, thrive on your spiritual path, and amplify your joy and abundance!
"I can't think of anything that has opened me up spiritually more than this class has. Not only does it help me to think "outside" the box but it has also answered so many questions in regards to past and present experiences. I fully recommend this class to anyone that is even remotely curious about their own spirituality or interested in developing their own psychic abilities. Beau is a patient, challenging and thorough instructor and I feel honored to be able to share this time with her each week and learn from her own experiences."
Can someone really open up their intuition using this course?
Yes, yes you can! The SAGE Method has been meticulously developed so you can fast-forward your intuitive growth. Beau's spiritual courses are packed with years of experience, all formatted in such a way to move you forward, faster.
Unlike many other intuitive development courses, The SAGE Method is a formula that allows you to sequentially unlock the blocks that are holding you back. It explains intuition in depth so you can conceptualize what it is you are actually doing. And it provides the tools needed to successfully apply your own unique style of intuition to receive accurate messages.
How is this course different?
This is not a cookie-cutter intuitive class. Since 2008, students from all over the globe have been unleashing their strong intuition with the help of the SAGE Method. Everyone is intuitive—it is how we are wired. When you apply the SAGE Method tools, you are able to use your intuition in your daily life. As a result, all areas of your life can improve.
Covering both psychic development and mediumship development, this program combines science and spirituality, pragmatic and esoteric knowledge, providing you with the most comprehensive intuitive education available anywhere. Throughout the seven weeks, you'll undergo a journey of emotional, mental, and spiritual transformation—a journey that will change your life.
The SAGE Method is one of the best spiritual courses to help you:
Perfect the skills required to have more psychic/intuitive experiences: Learn how to manage, harness and call psychic experiences on demand.
Get in right relationship with your environment, and with the people around you: Transform your state of mind, gain freedom from repeating patterns, and turn your relationships into thriving, healthy parts of your life.
Learn how to connect and listen to your intuition: Use your intuition as your guide to improve the health, wealth, and happiness for yourself and those around you.
Regain balance in your life: Learn how to live in your most natural, easeful flow and develop the courage to make the changes required for your highest good.
"I really like your style – so practical, logical, and down to earth. Until I found you, everything was 'woo-woo' and very hard for me to feel or buy into. Thank you for your kindness and expertise."
Strong psychic awareness will change your life
I know this first hand. For the majority of my life, I was a skeptical, scientifically oriented, type-A, Taurus. In 2005 my grandmother passed away and showed up in spirit form in my living room, which started me on my intuitive path. As my intuition increased, my life started to change in spectacular ways. I began to see the deep and powerful beauty of life around me. Finally, I could see that I had a purpose. I was no longer afraid of everything and I could trust myself, my intuition. I experienced more and more abundance. Opportunities increased as well as my income. I met amazing friends and found my community. But most importantly I became happy, truly happy.
What is included in your 7-week journey
Here's what we cover over the 7 weeks:
Week 1 – Reclaiming Your Focus
Accessing strong intuition happens when we are positioned correctly in our lives and solidly on our spiritual path. To achieve this, we need to gain awareness of where we are right now, readjust where needed, and step into the flow.
Week 2 – Core vs. Culture
To be able to see intuitively begins with being able to see clearly our daily interactions. Clarity in life comes through curiosity, so let's get curious.
Week 3 – Negativity and Perspective
We will observe, evaluate, and restructure our thought process to crack open to the spiritual mind and step fresh into a new state of awareness full of endless possibilities!
Week 4 – Organization
Clutter in your mind and your energetic space create obstacle courses for your intuition. Life and intuition are always easier when there is a straight road to follow.
Week 5 – Guides and Manifesting
Guides are always beside you, working for your highest good. This week you will join your team, take an active role with them in your growth and learning, and open your communication.
Week 6 – How Everything Works
To use intuition effectively, it is vital to understand where intuition comes from, how it connects, and the motivation behind intuitive messages. Deepen your understanding and expand your knowledge.
Week 7 – Stepping Into the Flow
With fun and engaging experiments you will graduate from this class knowing where on the psychic-mediumship spectrum you fall, and the perfect way to hold yourself to allow your unique intuition to flow at its strongest.
What the course includes:
52 Training Videos Delivered to You Over Seven Weeks: A new module is delivered every week for seven weeks starting on the day your group begins. You will have lifetime access to the course allowing you to watch the videos and revisit lessons on your own time as needed. Plus we have included videos of Beau's responses to common student questions for each week.
Weekly Homework: Weekly workbook activities and homework will help you integrate the lessons you learn from each module.
A SAGE Method Companion Box: Each student will receive a box in the mail with the SAGE Method Course Workbook, Beau's Memoir – Cracking Open: Adventures of a Reluctant Medium, note cards, and a special gift just for you! (see below)
A Private Student Forum: Monitored by Beau and the Certified SAGE Practitioners, students of The SAGE Method have access to an amazing online forum. This is an incredible resource where students can connect and get their pressing questions answered or open up topic for discussion in a safe and loving environment.
Special SAGE student trial in the SAGE Circle: Get your first two months in the SAGE Circle absolutely free. The SAGE Circle is an optional spiritual community membership that offers even more support during your time in the SAGE Method. After the two month trial it is just $19/month and you may cancel at any time. The offer will be available during checkout.
[BONUS COURSE] Discovery Meditation: Discovery Meditation is a practice specifically designed to help you differentiate between imagination and intuition.
Option to become a SAGE Certified Practitioner: At the end our 7 amazing weeks together, if you are still hungry for more spiritual teachings, knowledge, and experience, there are advanced courses only available to the graduates of The SAGE Method.
The SAGE Method Companion Box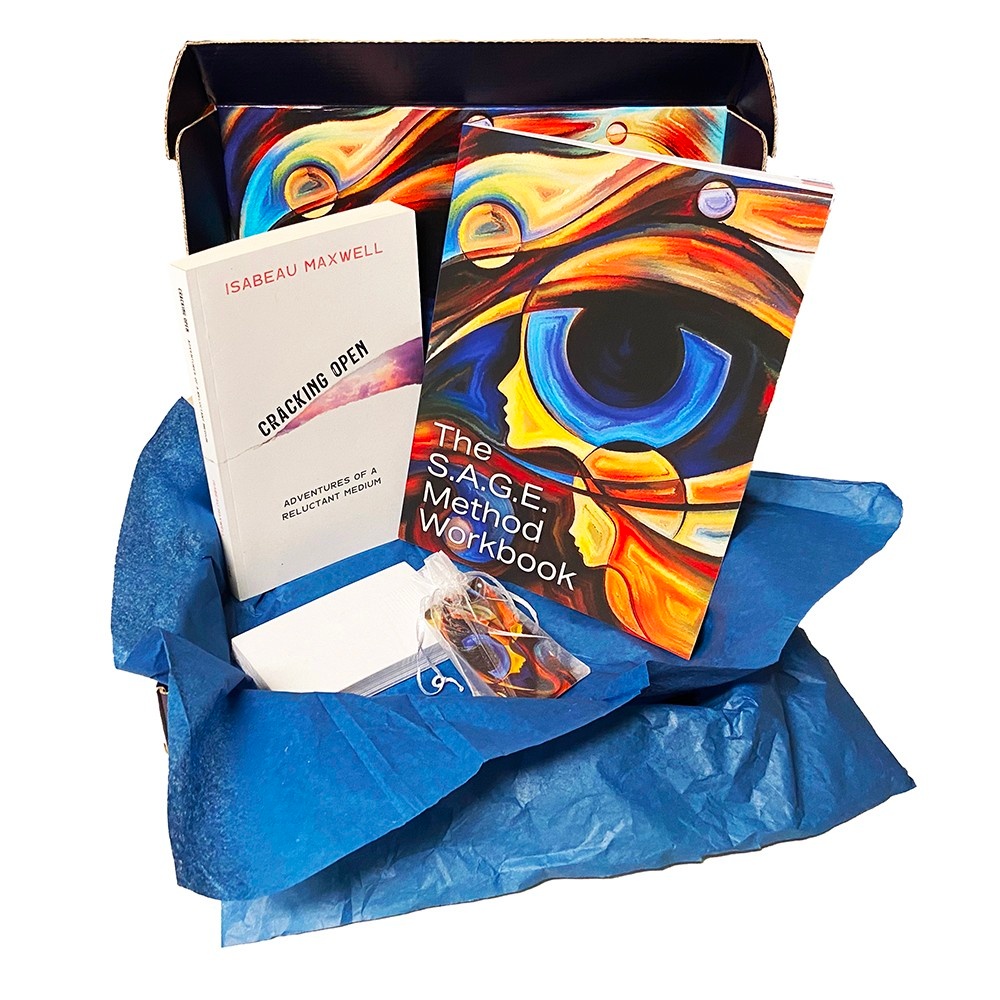 Open this beautiful box and open your intuition!
This box is a must have for those going through the SAGE Method Course, and is mailed to every new student*!
What's inside the box?
– A copy of Isabeau Maxwell's bestselling memoir, Cracking Open: Adventures of a Reluctant Medium
– The beautiful and essential workbook for the SAGE Method Course
– Note cards for intuitive exercises explained in the course
– A special gift, energetically charged just for you by Beau and her guide, Peter
*These boxes can only be sent within the US. If you are from outside the US, we will arrange that a SAGE Method workbook and a copy of Cracking Open: Adventures of a Reluctant Medium be sent to you via Amazon.
The SAGE Method ~ 70% OFF!!
On Sale ~ Regularly priced at $599
✨Course Starts January 1st, 2023✨
This incredible sale ends December 25th at midnight
"I found the SAGE method to be an amazing platform to discover not only my unique intuitive abilities but also a penetrating journey into my psyche. Beau's wonderful down-to-earth teaching style brings clarity to some very esoteric topics. The online format enabled me to work at my own pace each week & listen to lessons repeatedly. This resulted in an even deeper understanding & richer experience of the material. I feel a purposeful "flow" to my life that wasn't there before this class. The SAGE method is an empowering gift you give to yourself… just DO it!"
"You have me laughing with you! I am really enjoying the course. Happy to say in week one you have explained everything very well! I must say I went through the first week pretty fast haha, can't wait to unlock the second week. Thank you this course is really a joy!"
"I enrolled to learn about and develop my intuitive skills. Beau quickly made me feel comfortable with her gentle, calm, caring, and relaxed manner. Each week brought about a new experience and/or personal revelation. Taking Beau's class has opened up so many possibilities for me on my spiritual journey. I am so blessed to have had Beau for a teacher."
"The Sage Method class is uniquely designed to reach all those dark inner corners of oneself and pull out all the fierce, magical power we all truly possess whether we know it or not. I thoroughly enjoyed communing with people of like mind which made me feel comfortable to hone my intuitive skills. It made me realize I'm not crazy and I'm not alone."
People who are in touch with their intuition and psychic abilities tend to be highly sensitive, selfless and easily drained
They're incredible givers. In fact, they tend to give everybody everything and leave nothing for themselves. Because they are so sensitive, they often take on the burdens of others and find themselves constantly exhausted and weighed down by the stress and drama around them. This leads to a feeling of absolute exhaustion and even manifests in health issues like chronic fatigue, addiction, and depression.
This program will teach you the tools required to use your intuition for the benefit of your highest good and for the good of those around you in a healthy, sustainable, and nourishing way.
Your Instructor ~ Beau Maxwell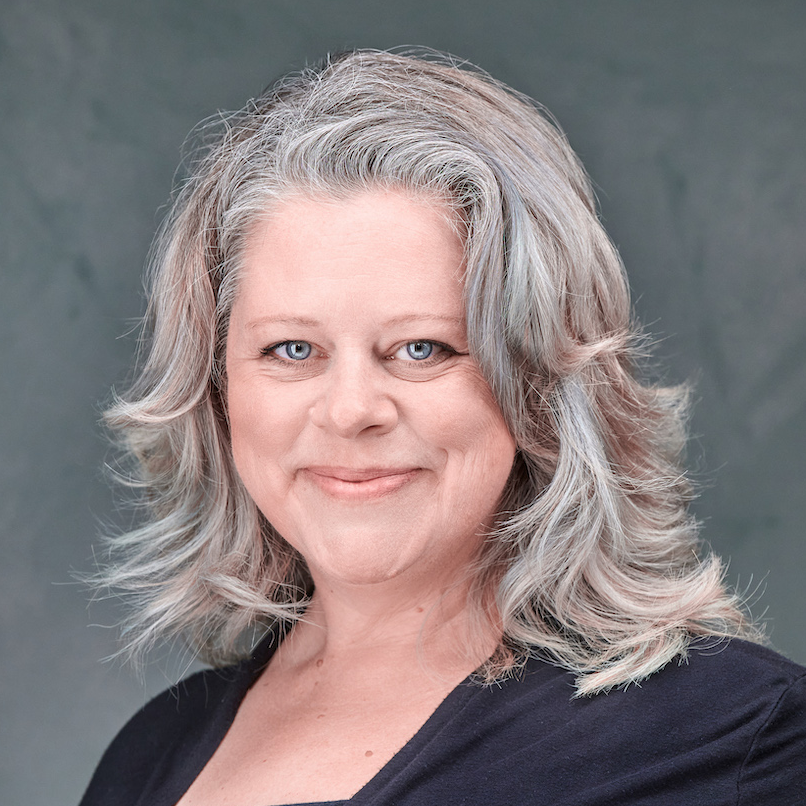 Isabeau "Beau" Maxwell is one of the leading spiritual coaches in intuitive development today. Isabeau brings deep channeled knowledge and personal understanding to the field of spirituality. She has helped people connect to their authentic, natural intuitive abilities for over 15 years through The SAGE Method.
An internationally known medium, author and teacher, Beau touches the lives of people across the world. Known for her compassion and accuracy, she brings peace and comfort to many through her energy work, transformative sessions and teachings.
Beau is also the creator of The SAGE Circle, Discovery Meditation and the author of Cracking Open: Adventures of a Reluctant Medium.
Having earned a bachelor's degree from Minnesota State University with a major in mathematics and a minor in chemistry, she maintains a balanced perspective between this world and the next. Down-to-earth and easy to relate to, Beau offers safe space for students and clients to process the intuitive information they are provided.
Frequently Asked Questions
The unique flow of the course
Many intuitive development classes only offer you techniques. This course not only teaches you technique, it shows you how to clear what is blocking your intuition. It is one thing to practice intuitive exercises and achieve moments of accuracy here and there. It is another to give your intuition a clear, strong vessel it can deliver messages through with ease. With this process, your intuitive accuracy levels will soar.
Fully opening up your intuition is not as simple as playing with psychic reader cards or doing readings and hoping that, with time, your intuition improves. Pop-culture will tell you intuition is a muscle which gets stronger with practice. This is only partially true. If you don't have a strong foundation, if you don't understand how intuition flows, and if you don't discover and deal with your blocks, you can only open up so far. To advance and witness your intuition at its best, you need to clear out what is blocking it. This is what sets apart The SAGE Method from other intuitive development courses.
Actually, it's both. The SAGE Method process opens the flow of your unique intuition, which might be more psychic or more medium in nature. Understanding the similarities and differences of these channels of intuitive ability is one of the benefits of the course. The SAGE Method honors your intuition and doesn't try to fit it into someone else's box. By the last week, you will be more certain where you fall on the psychic/mediumship spectrum; thus you can focus on your strengths and access your intuition more effectively and efficiently.
No. This is one of the strongest assets of The SAGE Method. You will not discover how to be like someone else. You will learn how to be you. Everyone's intuition is different and unique to them. Some people see visions and some people feel things. Also, some people speak to the deceased while others communicate with animals. If you try to be like someone else, you will never reach the intuitive heights that are available to you. If you focus on the mode of intuition that flows uniquely through you, you will not only rapidly progress, you will thrive!
The format of the course
The course is held only a few times per year so Beau and the SAGE Team can focus their attention on the students while they are going through their seven week journey. Once a week, for seven weeks, you will receive access to a new section of instructional videos you can watch at the time that works best for you. Watch the videos, fill out the workbook for that week, and in 7 days you'll receive the next set of instructional videos. There will also be a group forum to connect with others, and Beau and the Certified SAGE Practitioners. The forum is uplifting, connective, and very helpful as you journey through the course.
Once purchasing the course you will be sent a SAGE Method Companion box* which has the course workbook and note cards as well as some other goodies. This will be all you need to complete the course.
*Boxes can only be sent within the US only. If you are outside of the US we will arrange for a workbook to be sent to you via Amazon.
How does lifetime access sound? After enrolling, you have unlimited access to this course for as long as you like – across any and all devices you own. Even though the course includes 7 weeks of additional support and encouragement through the private forum, even after the 7 weeks you will always be able to access your course.
The SAGE Method meets you where you are at
Absolutely! While many intuitive professionals take this course to improve their accuracy and build their spiritual practice, just as many people take this course to discover their intuition for the first time. The course is structured to start everyone at the beginning. For someone new to intuition, it is an incredible foundation to build on, a process that will fast-forward their growth. For professionals and people who have dabbled in intuition, it provides important foundational tools they need to advance even further than they ever have before.
Almost 90% of students who take The SAGE Method course do not wish to become a practitioner, and take it simply to develop their personal intuition and improve their own lives. What a person gains from using The SAGE Method Course is so much more than heightened intuitive abilities. They discover freedom and a self-awareness they never had before! They know how to live in the flow and bring peace and bliss to their lives.
However, if you do want to train to be a SAGE Certified Practitioner, please reach out to us after you have completed the SAGE Method course and we will provide you more information.
This course is extremely valuable to practicing psychics and mediums who understand the power continued learning has on your intuitive strength. We have many professional intuitives who have taken the course and make a practice of retaking the course once a year to reset, strengthen and raise their vibration to even higher levels. You will always have access to the course once you purchase it and it becomes a valuable set of tools you can use over and over as you grow and develop your intuition. Each time you access the tools, as you need them, you open more doors to your intuitive strength, abilities and process.
We welcome all 💜
The SAGE Method does not discriminate on the basis of race, color, religion, sexual orientation, gender identity or expression, national origin, age, or disability. We are committed to providing an inclusive and welcoming community for all members, students, guests and staff.