To support all in these difficult times we are providing free access to The SAGE Circle for a month.
You are moments away from the training, connection and support you need to raise your vibration, get in alignment and fully experience the magic of your spiritual journey.
Stop me if this sounds a little too familiar:
You feel like you're riding in the backseat of your life, instead of driving the car…

You're trying really hard to manifest and nothing seems to be working. You feel like maybe you just have bad luck…

You feel out of the loop, like everything is happening around you and out of your control without you being notified or informed, or even knowing…

You can't see any new possibilities in your life. You find it hard to see how anything can be different or better than how it currently is…

It seems like all the good things happen to everyone else, and you're stuck settling for whatever is right in front of you…

You're frustrated because you've tried many spiritual solutions but nothing seems to stick.
If these resonate, you're in the right place. No gurus to worship. No unreasonable promises. Just a supportive tribe of spiritual seekers embracing their power, strength and inner beauty. People just like you who are ready to find the magic in each day, get in alignment and harness their intuitive abilities to live a life of abundance and bliss.
Join the SAGE Circle, an online community of spiritual seekers with everything you need to actualize the life you want.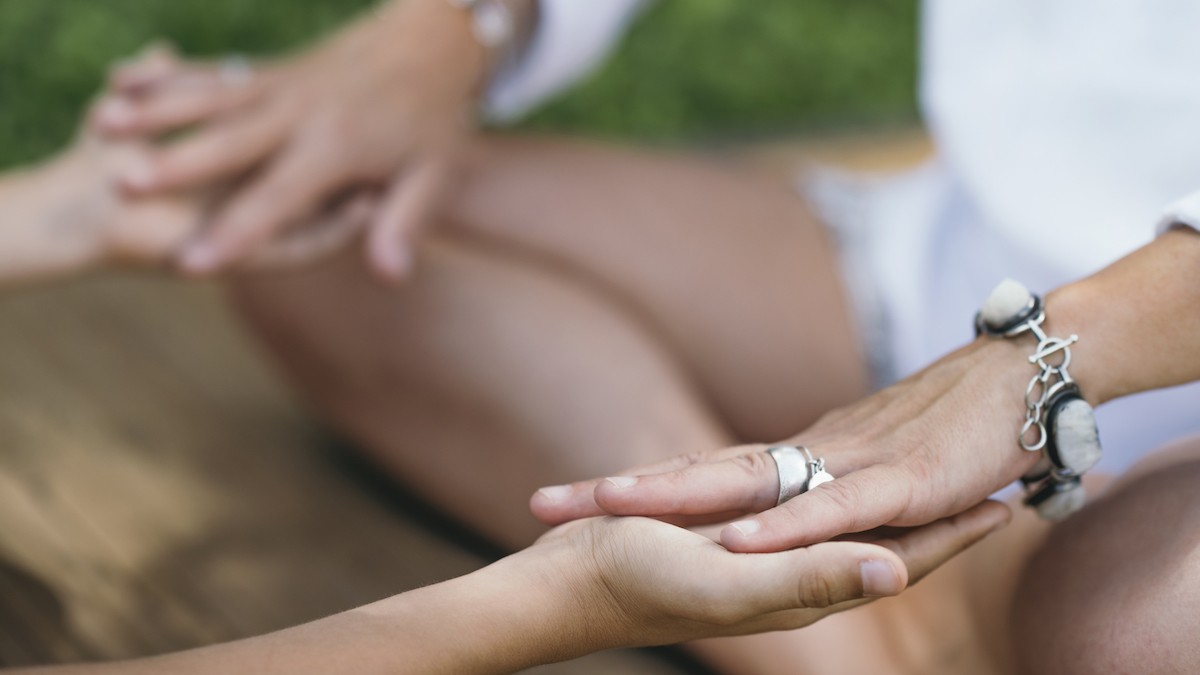 We all crave spiritual alignment. We crave the magic, synchronicities and miracles that happen when we've stepped onto our spiritual path and are fully experiencing all the joy that comes with it.
Inside the SAGE Circle, this is exactly what you'll get. Together, we'll raise your vibration in Sacred Space sessions and expand your spiritual knowledge with new concepts, Q&A sessions and jumpstart tips. We will relish in community and most of all, get you joyfully integrated on your spiritual path.
"You might be asking… what IS Sacred Space & what will it do for me?

It's a wonderful, delicious, multi-sensoral experience in space/time where one gets to commune with one's soul, Spirit Guides & loved ones who have passed on… or to just relax into a wonderful chill vibe to 'reset' one's energy.

Just by settling in & allowing Beau to raise the vibration with all participants on the call… my experience of mere meditation turns into a 'Wonderland of Connectedness' where significant revelations & messages are delivered in vivid visuals, sounds & sensations. I've had direct communication with my Guides in such intense detail that I now have the confidence to call on them by name because I really 'know' them. The more I do Sacred Space the more my 'intuitive muscle' gets renewed & revitalized.

Sacred Space is Beau's special contribution to the world & should be experienced by anyone & everyone who takes their spiritual path development seriously. It is honestly the best hour of space/time in my week & I'm seriously hooked!"
Having attended her first Sacred Space session…


"I loved this So much!!! Probably the clearest experience I've had ever of merging with my guides energy. Wow! Answers around personal things (my book etc) then global love & light then I go the sense to start coming back literally in perfect alignment with your timing! So cool, thank you!"
"Thanks for the warm welcome.  I like this community. I'm feeling incredible grounded after our sacred space meditation. I don't want to move. I love how you handle it as well as your feedback afterwards of what symbols etc that you saw.

I found you on a random facebook post before Christmas. (I know there is no random – my guides talk to me alot through facebook posts)  I really liked your communication/writing style – I found it very clear and easy to understand.  And I like and learn from the topics you write about.  Anyway, I believe that you have put significant amount of  work into what you have created so far and I thank you for doing what you are doing – I am truly appreciative!"
Meet Your Guide
Hi, I'm Isabeau Maxwell, aka Beau. I'm a professional intuitive and the founder of The SAGE Method. I've been teaching students how to hone their intuition and raise their vibration (& keep it high) for over 15 years now and I love it!
Having witnessed so much success in people's lives as a result of attending Sacred Space sessions and keeping their spirituality in the forefront of their life, I decided to make what I was already doing official and create The SAGE Circle. This was a natural progression that made Sacred Space sessions, teachings and connection more affordable for my clients, students and fellow practitioners. And, it brought together in one place all the best, most beneficial tools one needs for spiritual alignment.
Today I am blessed to be able to provide mentorship inside The SAGE Circle. It warms my heart to be a part of a tribe of amazing people making their spirituality, bliss and growth a priority. And, watching as their lives improve as a result of it. It doesn't get any better than that!
"Beau is the best spiritual mentor I have ever worked with – and I have worked with many spiritual teachers over the years. She is incredibly centered, grounded and authentic in her spiritual teachings and day to day support (and she also has a killer sense of humor).

The Inner Circle works perfectly for me. The teaching modules are permanently available giving me the opportunity to listen to them when it suits my busy life. Every module is full of mind and soul opening content.

'Sacred Space' is one of the highlights of my week. I call it my soul medicine. In one hour it clears out my 'junk', lifts my spirit and gives me direction. And if for some reason I can't make it personally – I'm included anyway.

I have no doubt that Beau has an open channel to spirit – I have asked questions to spirit directly and received replies through her that she is still unaware of. Creating room in my life for Beau and her knowledge is the best thing I have ever done in my spiritual journey."
What is Sacred Space and How Did it Get Started?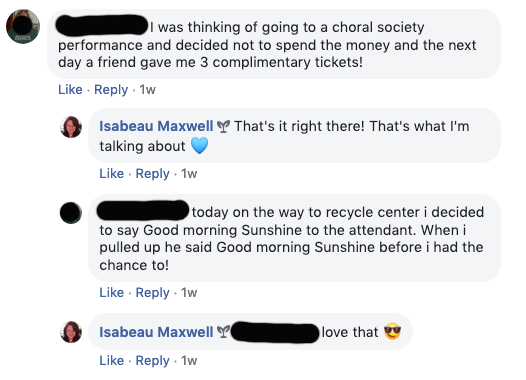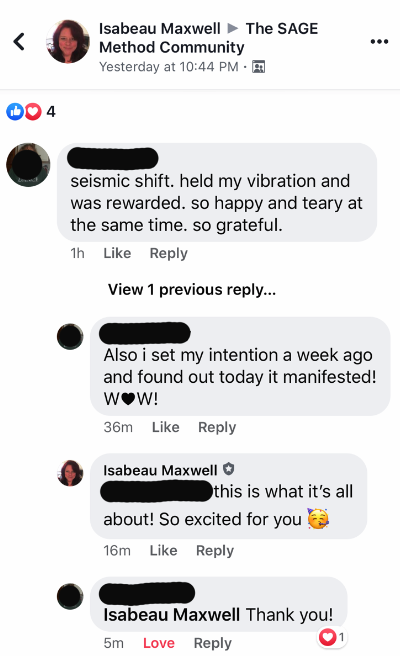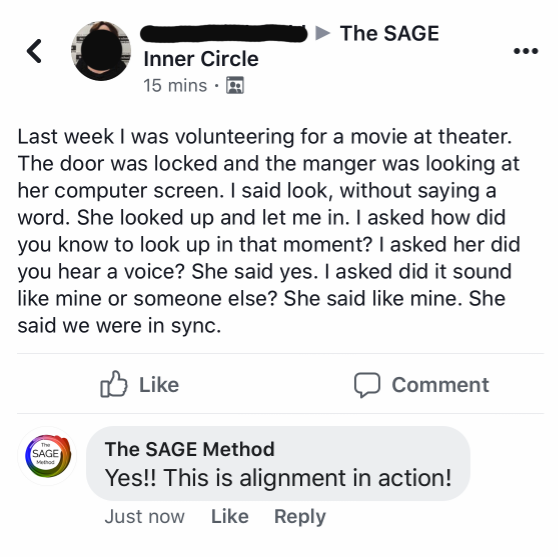 You can study all you like, but when you're part of a movement with a group of people who are all moving in the same direction, the power is palatable. You are not alone. If you're one of the millions of people who are craving better alignment, growth and spiritual development in your life, you're just seconds away from getting it.
What is included in your membership:
Monthly Live Teaching Sessions with Beau – Get your monthly fix of new spiritual teachings to reflect on and put into practice in your life. A perfect place to expand your spiritual knowledge, ask questions and connect.

Weekly Live Sacred Space Sessions – Sacred Space is a meditative session that raises your vibration allowing you to rebalance, recharge and connect more easily to your higher source. These are not pre-recorded sessions. These are live, weekly sessions with Beau you can join right from the comfort of your home. With your vibration raised, you'll leave feeling like you're floating on air, trust me. Uplifted, empowered and ready to create!

Discovery Meditation  – Powerful guided meditations structured to assist you in distinguishing between your imagination and your intuition. Discovery Meditation is a series of recordings you can access from any device that will help you develop your intuitive strengths.

The 21 Day Spiritual Cleanse – As a tribe, we run the 21 Day Spiritual Cleanse a couple times each year as an included bonus. Each cleanse includes live group mentor sessions with Beau, daily connective videos and three integration meditations.

A Private Facebook Group For SAGE Circle Members Only – The perfect place to find daily inspiration, share your successes and connect with your tribe.

Quick Tips and Spiritual Wins – Mini-teachings packed full of fun spiritual tips and tools to amp up your practice easily and with more enjoyment. Need a quick boost or a new spin on an old practice? The Quick Tips Section in your membership library is the place to go.

A Library of Teaching Videos Including

Deja Vu & Free Will
Linear Time & Soul Groups
The Difference Between Psychic & Medium
What's Between the Molecules
Working With Your Guides
Imagination vs. Intuition
The Agreed Upon Reality

Priority Access and Discounts  – You will be first in line to access future course offerings, special events. Plus you will receive special SAGE Circle member only discounts.
To support all spiritual pathwalkers in these difficult times we are providing access to The SAGE Circle and The SAGE Pro Circle free of charge for the first month.
Use the coupon code ABUNDANCE to get your first month free ~ and welcome to the community!!
Pay Monthly
Recurring Monthly Payment
Cancel Anytime
Pay Annually
Recurring Annual Payment
Best Value – Get Two Months Free!
Monthly Explorations of Spiritual Concepts
If we aren't religious, there are few places out there we can go get the spiritual nourishment and growth/development we need. In The SAGE Circle, we explore new spiritual concepts every month. Worried about missing a future session? Don't be. We record them for you and upload them into your library for you to watch at your leisure. Past topics have included how to work with your guides and learning to differentiate between imagination and intuition.
Weekly Healing and Uplifting Group Sessions

You will also have access to unlimited Sacred Space sessions. These sessions are online live meditations with me. They are structured to raise your vibration. This allows your guides and your higher self to make adjustments, replenish you and connect you to your higher source. Sacred Space sessions provide you with guidance, the energy of unconditional love and a deeper connection. Not to mention they put a kick in your step and just feel wonderful.
A Library of Practical & Helpful Teachings

Gain access to a library of practical teachings that will help you understand your spirituality on a deeper level and live a more connected life. With more knowledge, you are able to navigate your spiritual path with greater ease and be more present in your experiences. As you continue your membership your library will grow and always be there for you to revisit if you need a refresher on any topic. The videos can be watched at anytime and from any of your devices, making it easy to get your fix when you need it.
Access to weekly, LIVE Sacred Space sessions is one thing that sets The SAGE Circle apart from other groups. The gift of being able to connect and raise your vibration on a regular basis is a game changer when walking a spiritual path. And, knowing your tribe is there for you consistently, excited to lift you up and celebrate your growth, is priceless.
What makes the SAGE Circle different?
SAGE stands for Spirituality, Alignment, Growth and Empowerment
I've seen miracles happen when people are given the right support, knowledge and spiritual freedom. I've witnessed thousands of amazing students and clients create greatness in their lives. I too regularly experience my own personal miracles and bliss on my path. This is what happens when you are in balance, in alignment and solid on your path. Things come naturally and fall into place.
Not sure if the SAGE Circle is right for you?
A spiritual path involves bliss and intuitive connection, but it also includes growth and inner work. Only you know where you are on your path and if you're ready to take the next step. That being said…
Here is who we created the SAGE Circle for…
People who are ready to carve out time for themselves to raise their vibration. The meditation sessions, teachings and community in The SAGE Circle are not required but utilizing them is how you will get the most out of your experience.

Individuals who are ready to invest in themselves and their own growth and make their spiritual path a priority in their life. We are all about balancing our spiritual and human lives and here to support you doing that as well.

Those who balance on the fine line of wanting accountability but wanting to do it their way. We will never tell you HOW to walk your spiritual path but we will be here to encourage, love unconditionally, provide guidance and tips and celebrate your successes as you do it your way.

People who will put the personal work in. This community provides the tools you need to succeed… but you need to use them.
Who the SAGE Circle is NOT for…
People who are looking for a quick spiritual fix. Simply signing up will not alleviate all of your issues or lift your vibration.

Concept chasers who jump from spiritual idea to spiritual idea hoping to find the answer and never applying the effort into their own lives.

Those who are negative, who thrive in victim mentality or hope their path will be fixed by others. This is not a group that will solve your problems for you.

People expecting guaranteed results. I know the SAGE Circle teachings work (I've witnessed countless success stories) but I can't guarantee your success because I can't guarantee you'll apply the guidance to your own spiritual path.
You'll be the first to find out anytime we release a new spiritual development program and the first to get access to it. At times I also include bonus readings, interviews with spiritual experts or other videos I create to help you deepen your spiritual practice.
No matter where you are on your spiritual journey, the SAGE Circle has a place for you.
We have kept the value of this membership high while keeping the price low. Tools, support and community for less than a $1/day.
This is the community you've been waiting for, the connection you've been longing for, the alignment and growth you've been manifesting.
Get in alignment now.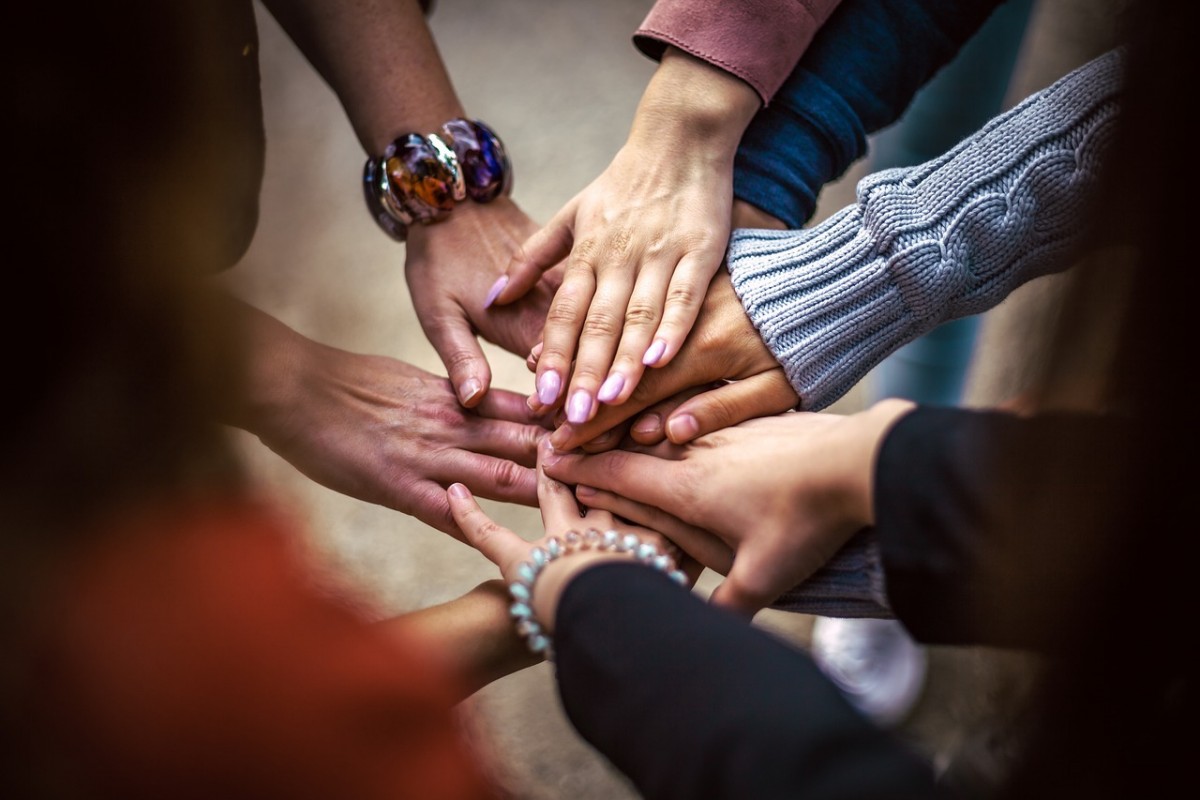 To support all spiritual pathwalkers in these difficult times we are providing access to The SAGE Circle and The SAGE Pro Circle free of charge for the first month.
Use the coupon code ABUNDANCE to get your first month free ~ and welcome to the community!!
Pay Monthly
Recurring Monthly Payment
Cancel Anytime
Pay Annually
Recurring Annual Payment
Best Value – Get Two Months Free!