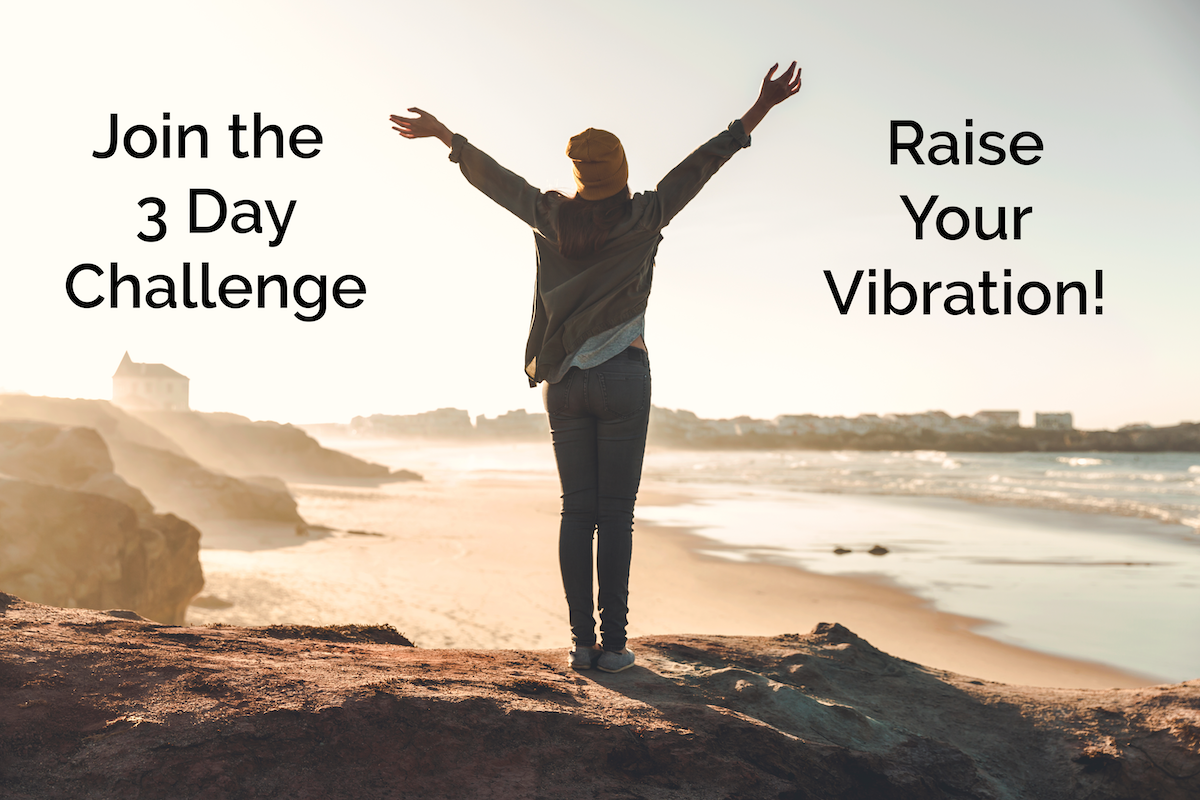 3 Day Raise Your Vibration Challenge!

Join Isabeau Maxwell for 3 Sacred Space Sessions to raise your vibration and keep your vibration raised!
During this challenge you will set an intention and your vibration will be raised in three Sacred Space sessions. By doing this, holding a higher vibration for three days, you will successfully integrate your intention over the course of 72 hours.
Free to Participate ~ Three Day Challenge starts March 24th, 2020 (on the New Moon)

Seats are limited so register today!
Join me for three days as we raise your vibration and keep your vibration raised to amplify your energy and realign you on your spiritual path!
Each day you will attend one relaxing meditative Sacred Space session that is structured to raise your vibration. No special skills are required. Just your intention of spiritual growth and love.
What is a Sacred Space Session?
Sacred Space Sessions are online, group meditations you participate in right from the comfort of your own home. They are structured to amplify the love and raise your own personal vibration. The session allows your guides and your higher-self to balance, replenish and connect you to your higher source. This helps you release what is holding you back, move you forward on your path and open your energy up to more amazing possibilities. Do one of these sessions per day for three days in a row and the results are powerful.
Some of the experiences people have reported with Sacred Space:
Releasing and healing of old emotional wounds
Experiencing deep relaxation and intuitive moments
Becoming more energetically aligned
Connecting to their spiritual guides
You'll leave the sessions feeling:
Balanced, renewed, rejuvenated and in the moment
Re-connected to your deepest, most spiritual self
Higher, lighter with more clarity on your life path
Testimonial from a Sacred Space Session ~ "What a very cool sacred space that was last night! Thank you! I was stunned when you named the elements at the end because I had been concentrating on a five point star of the elements Earth, wind, fire, water, cosmos while I was playing a singing bowl with that emblem on its base during much of the session. Feeling gratitude for you and keeping us uplifted as we uplift others around the world."
FAQs
What do I need to Participate?
You will need a computer or smart phone to participate. When you attend, you will be joining into a group online session that will be led by Isabeau. The link that will be sent to you via email each day of the event will give you access to a Zoom session on a computer. If you would like to use your smart phone to attend, please download the Zoom app (iPhone or Android) before the event for easy access the day of.
What happens during a session?
Once you login to Zoom at the allocated time and day, you'll be able to see and hear Isabeau. Nothing is required of you during the session other than to simply be present and relax comfortably. A chat room will be available to you. Many participants like to say hello and share their experience before and after the session. During the event, Isabeau will lift the vibration for you, giving you the opportunity to heal, balance and recharge.
What if I can't make the session?
If you register but are unable to attend, you will still be included in Sacred Space no matter where you are. You will still be included in the healing energy so you can balance and recharge a bit. Also, the sessions will be recorded and available for viewing after each session.
Session Details

The sessions are FREE to attend but registration is required because space is limited
You will be asked for your email address to register which will in turn subscribe you to Isabeau's general newsletter which you may opt out of easily at any time. Your information is private and will never be shared or sold.
The length of the session
The events will each last from 45 to 60 minutes. The actual meditation during each event will last anywhere from 20-40 minutes.
After you register
After completing your registration you will be sent further details via email. If, after registering, you don't see an email within the next 12 hours, please check your spam box. If there is nothing in your spam box, please reach out to info@thesagemethod.com for assistance. You will also receive a reminder email 1 hour before each event with login details.
What to Expect During a Sacred Space session